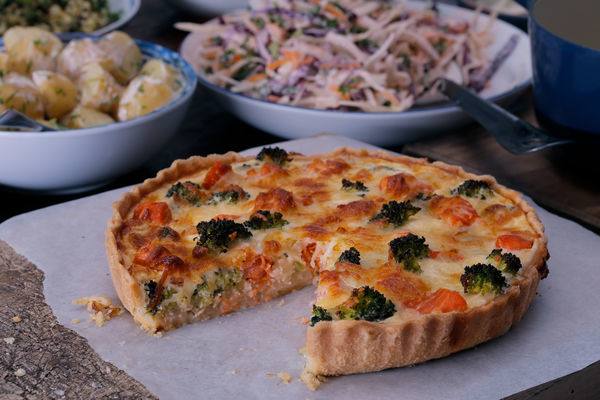 This is the king of quiches, with succulent salmon & tender broccoli incased in a light pillow of cheese & pastry.
INGREDIENTS
140 g cooked salmon fillet cut into cubes
3 teaspoon Hellmann's Light Mayonnaise
125 g small broccoli florets, blanched
1 cooked pastry case (20 cm)
75 g grated mozzarella cheese
2 eggs
150 ml semi-skimmed milk
1 finely chopped small onion
1 clove garlic, chopped
pepper
METHOD
Preheat the oven to 190°C, 170°C fan, Gas mark 5.

Heat 2 tbps of mayonnaise in a pan on a low heat and add the onion, garlic and broccoli, then cook for 5 mins, stirring constantly until softened.

Place the broccoli mixture in the pastry case, add the salmon cubes and sprinkle with cheese.

Combine the eggs and milk, season with pepper and stir in 1 tbps of mayonnaise for the perfect white sauce.

Pour the mayonnaise mixture over the vegetables and cheese. Bake in the oven for 20-30 minutes or until cooked.

Finally, revel in your mastery of this regal dish.