Portuguese Prego BBQ Sandwich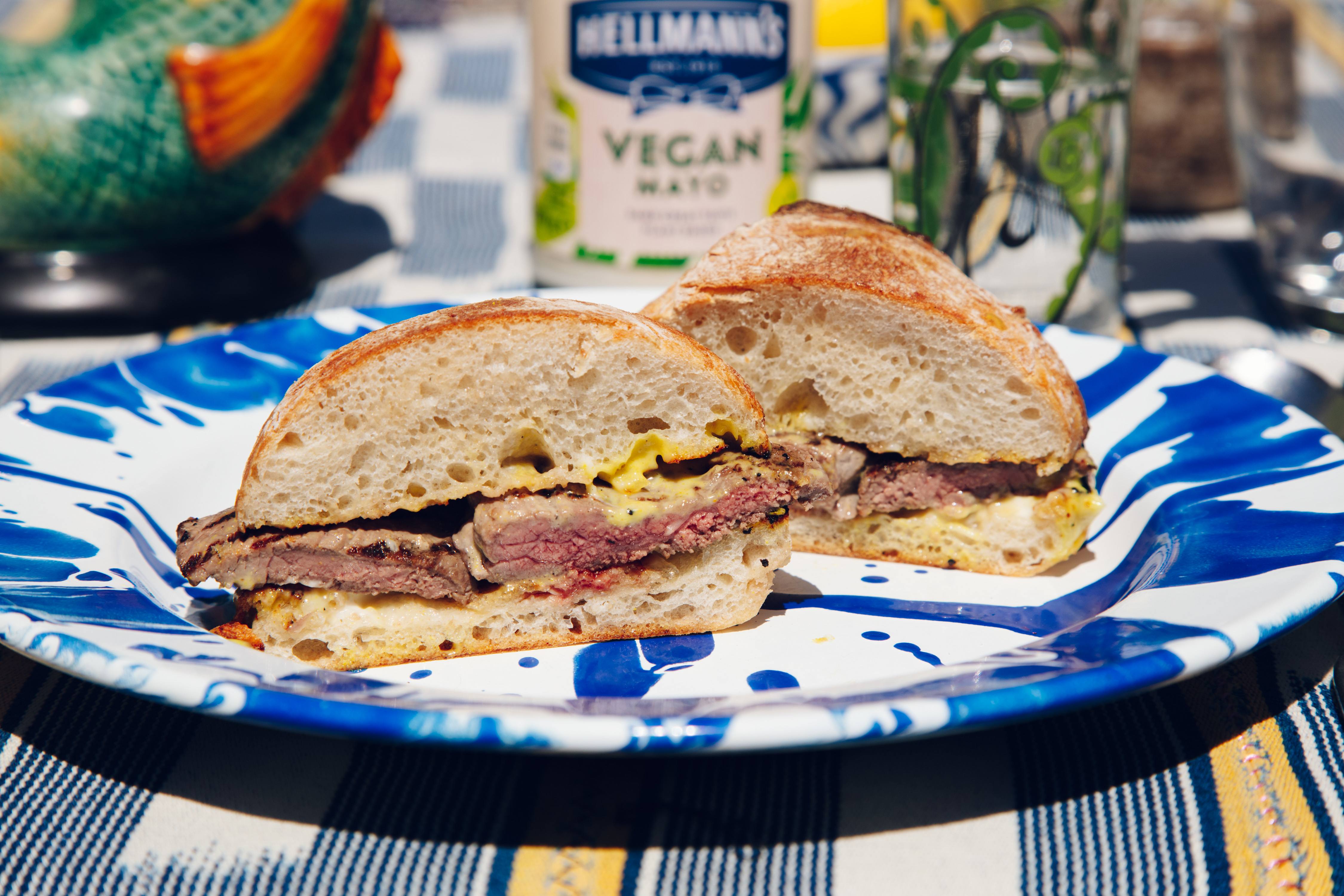 Rump steak marinated and barbecued served on a toasted Prego roll, with delicious mustard mayonnaise! The perfect way to bring a taste of Portugal.
INGREDIENTS
2 150 gram rump steak
2 rolls (Prego or ciabatta)
2 tbsp Hellmann's Real Mayonnaise
2 tbsp Hellmann's Real Mayonnaise
1 tsp dried oregano
3 tbsp red wine
1 tsp salt
2 tbsp English mustard
2 tbsp Hellmann's Real Mayonnaise
METHOD
Mix together the marinade ingredients in a large bowl and place the steaks into them. With your hands massage the marinade thoroughly into the steaks, before placing in the fridge and leaving to marinade for a minimum of 1 hour, but no longer than 8 hours as the steaks will begin to get tough.

To make the mustard mayonnaise simply mix together the Hellmann's Mayonnaise, English mustard, vinegar and salt until well combined.

Ideally you want to be cooking you steaks on charcoal to get an authentic flavour, so get your barbecue on a good hour ahead of time. Once the coals have got white hot, remove the steaks from the marinade. Season with a good sprinkling of salt on each side of the steak and carefully place on the grill. Allow to cook for 2 minutes on each side, allowing a good caramelisation and char to develop. Remove them from the grill and set aside to rest. You can of course do this in a smoking hot frying pan.

Cut the rolls in half and spread half a tablespoon of Hellmann's Mayonnaise on each side. Place on the grill, cut side down, for a minute each to toast until crisp and beginning to char a little.

To construct the sandwich, take the rested steak and with a sharp knife, slice into 1cm thick strips and layer on top of the bottom half of the roll. Next dollop a good spoonful of mustard mayonnaise onto the top half of the bun and spread into an even layer, place on top of the beef and eat immediately.