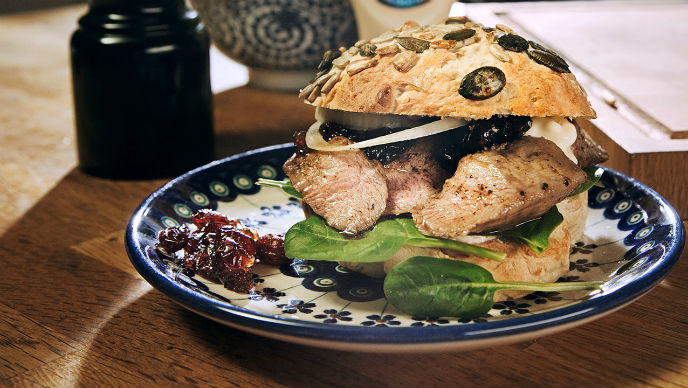 This succulent Lamb Fillet Burger is about simplicity. Juicy lamb, zesty cranberries, balanced by creamy Hellmann's Mayonnaise in a soft bun.
INGREDIENTS
2 medium sized, outdoor-reared lamb fillets
20 g, Flora Buttery
100 g, baby spinach
50 g, cranberries
2 tablespoons, maple syrup
2 tablespoons, Hellmann's Real Mayonnaise
2 buns
2 grams salt
pepper
1 tablespoon, oil
METHOD
Season the lamb, rubbing the salt and pepper into both sides of the fillets.

Place your non-stick pan on the stove on a high heat and wait until the pan is almost smoking, then add the lamb fillets, and flash fry on both sides for three to four minutes. Try not to be driven into a frenzy by the delicious aroma.

Remove from the pan, and set aside on a warm plate in the oven on the lowest setting.

Dab away the excess fat from the pan with a piece of kitchen roll, then on a lower heat, sauté the cranberries so that they gently soften, glazing them with the maple syrup as you go.

Spread the bottom and top halves of the buns with Hellmann's mayonnaise. On the bottom half, place a few leaves of baby spinach, then top with the lamb, cranberries and bun.

Listen to "It Might as Well be Spring" by Frank Sinatra.