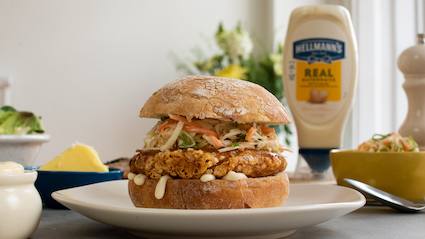 This rolled pork belly with shatteringly crisp crackling and super tender meat is all you need and more.
INGREDIENTS
1.2 kg pork belly
20 g sage leaves
20 g parsley leaves
1 lemon
2 cloves garlic sliced
salt
pepper
250 g white cabbage shredded
2 carrots shredded
2 spring onions sliced
3 tbsps Hellmann's Real Mayonnaise
6 ciabatta rolls
METHOD
Preheat the oven to 160C/140C fan/gas 3. Place the pork belly skin side up on a board. Using a very sharp knife, score the skin in diagonal lines to form diamond shapes. Flip the pork over and evenly spread the sage, parsley, & garlic across it. Season with salt and pepper and zest the lemon over the top, reserving the fruit. Roll the belly up as tightly as possible with the skin on the outside, using butcher's twine to secure the roll at regular 2cm increments. Place the joint in the oven and roast for 3 hours.

Place the cabbage, carrot, spring onion & Hellmann's Real Mayonnaise in a mixing bowl, season with salt and pepper and the juice from the reserved lemon. Mix well, cover and place in the fridge until needed.

After 3 hours turn the meat on the oven up to 240/220C fan/gas 9 and cook for a further 30 minutes until the skin has crisped up. Remove from the oven and rest on a board for 15 minutes.

Slice the ciabatta buns in half, spread with mayo and top with slices of pork, followed by the coleslaw and the bun lid. Serve and enjoy!