Falafel Flatbread Wraps with a Vegan Mayo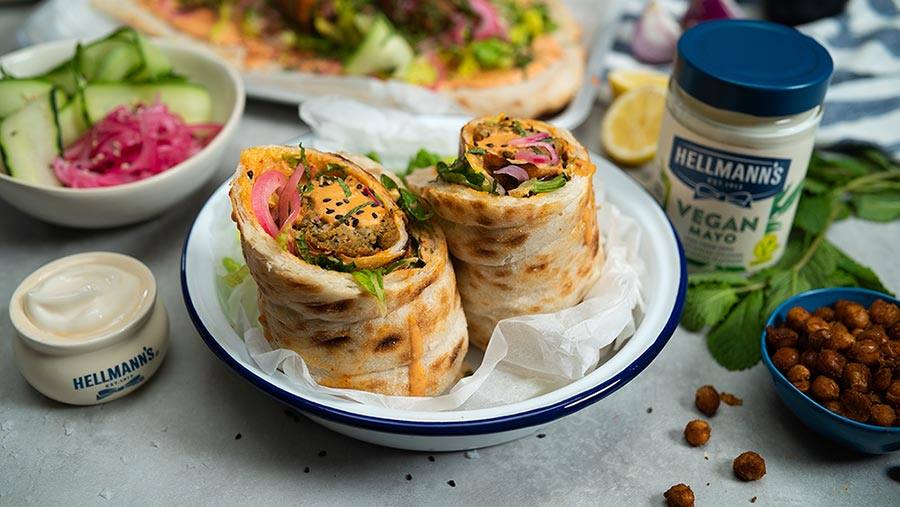 Delicious baked falafels accompany fresh salad and pickled onions in a pillowy flatbread, dressed with a punchy, harissa and vegan mayonnaise dressing.
INGREDIENTS
2 slices of stale bread
2 tins of chickpeas, drained of all liquid and rinsed
1 red onion, diced
1 small bunch of flat leaf parsley
The juice of 1 lemon
4 tbsp of tahini paste
1 tsp of sumac, plus extra to serve
1 pinch of salt
1 pinch of coarse ground black pepper
2 tbsp of olive oil
12 tbsp of Hellmann's vegan mayonnaise
3 tbsp of harissa paste
2 cos lettuce hearts, leaves picked, washed and chopped roughly
1/2 a cucumber peeled into ribbons
4 sprigs of fresh mint, finely sliced
1 red onion, finely sliced
200 ml of white wine vinegar
2 tbsp of icing sugar
2 tbsp of salt
4 vegan flatbreads
METHOD
Preheat the oven to 200c / 180c (fan).

Add a 2 slices of stale bread to a food processor and blitz into fine crumbs. To this, add the chickpeas, diced red onion, parsley, lemon juice, tahini, sumac, salt and pepper. Blitz into a thick paste.

Use a medium sized ice cream scoop to shape bite-sized falafel balls, then lay these out on a parchment lined baking tray. You should get roughly 20 falafels from the mixture. Brush each falafel with a little olive oil and bake in the oven for 30 minutes.

Meanwhile, prepare the rest of your salad ingredients. Add your sliced red onion to a bowl and pour over 200ml of white wine vinegar to cover, then stir in the icing sugar and salt. Cover and set aside for at least 20 minutes, to pickle, then drain and rinse with a little cold water.

In a bowl, combine Hellmann's Vegan Mayonnaise with harissa paste.

Warm your flatbreads in the oven, then spread each with some harissa-mayo and top with your sliced cos lettuce, ribboned cucumber and baked falafels. Spoon more of the vegan harissa-mayo over your falafels.

Garnish with the pickled onion, chopped mint and a generous pinch of sumac, then roll up your flatbreads and enjoy.