Vegan nachos with spiced black beans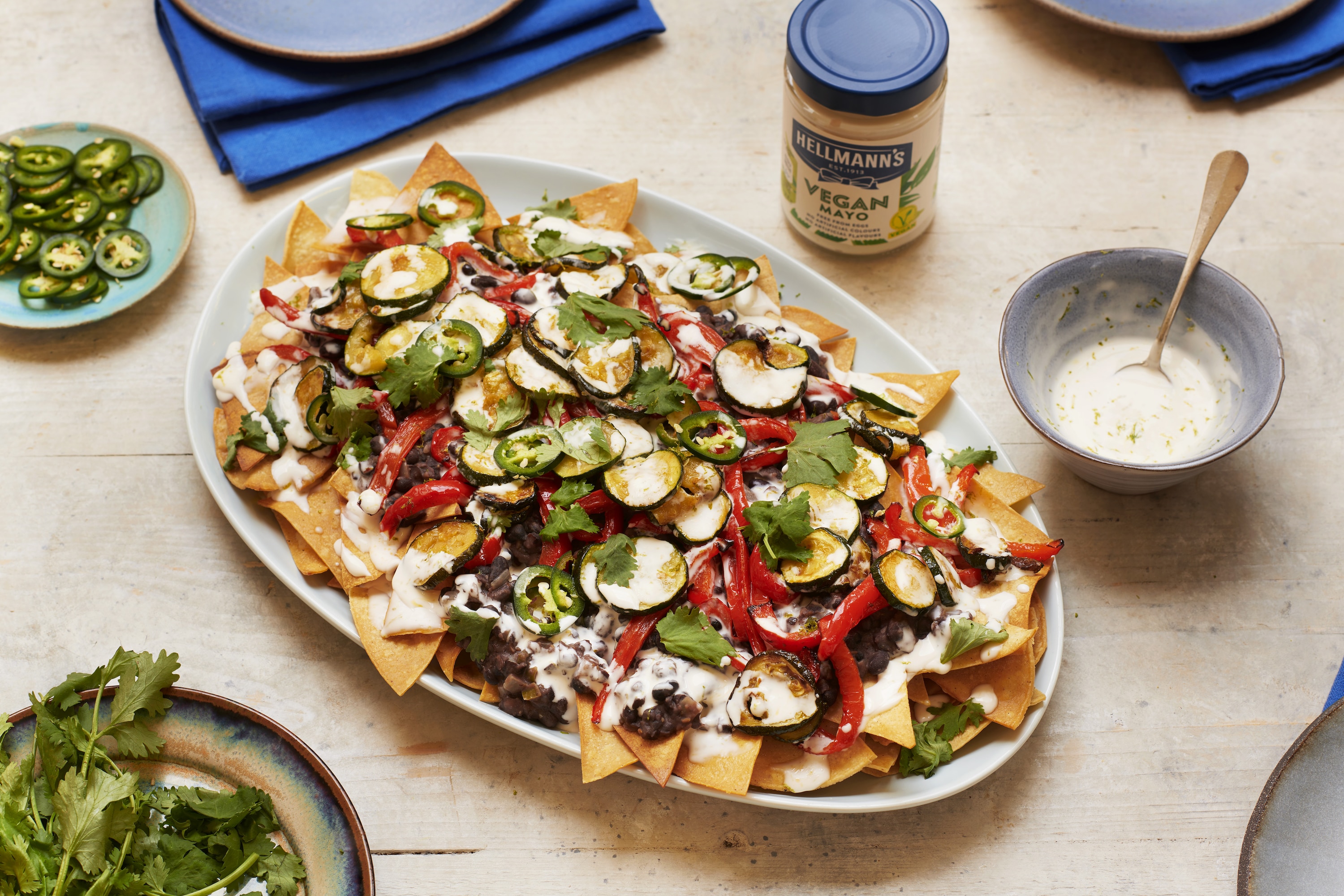 Embrace autumn & a Saturday night with Vegan nachos with spiced black beans, peppers, courgettes and lime mayo. Invite close friends for some tasty vegan grub.
INGREDIENTS
1 pack tortillas
100 ml vegetable oil
2 tablespoons rapeseed oil
1 onion diced
4 cloves garlic chopped
2 jalapeños or green chillis diced
2 tsps cumin powder
2 tsps dried oregano
2 tins black beans
3 tbsps rapeseed oil
3 red peppers sliced
3 courgettes thinly sliced
150 ml Hellmann's® Vegan
2 limes zested and juiced
sea salt
pepper
A handful coriander leaves to serve
2 jalapeños sliced thinly to serve
METHOD
Preheat the oven to 180C fan. To make the nachos, cut through the stack of tortillas, so you end up with six nacho triangles out of each tortilla. Then put them on a tray and drizzle over the oil. Cook for about 10-15 minutes or until they turn light golden and become crispy. Drain on some kitchen towels.

For the grilled veg, simply toast them in oil on a baking tray and season lightly, then roast in the oven for 20-30 minutes or until soft and scoop-able and catching a little at the edges.

To make the beans, heat the oil in a pan and add the onions, garlic and chillies. Cook over a medium-low heat until everything softens and starts turning golden. Add the cumin and oregano and cook for another 2 minutes. Then add the beans and 150ml of water and cook for about 15 minutes, topping up with some water if you see it going dry. Season with salt and pepper.

For the lime mayo, mix the mayo with the zest and juice and a little splash of water to loosen it up and make easier to drizzle.

To serve layer the nachos on a serving platter and load with the warmed up beans, grilled veg and drizzle over the lime mayo. Sprinkle over the coriander leaves and jalapeños and enjoy!