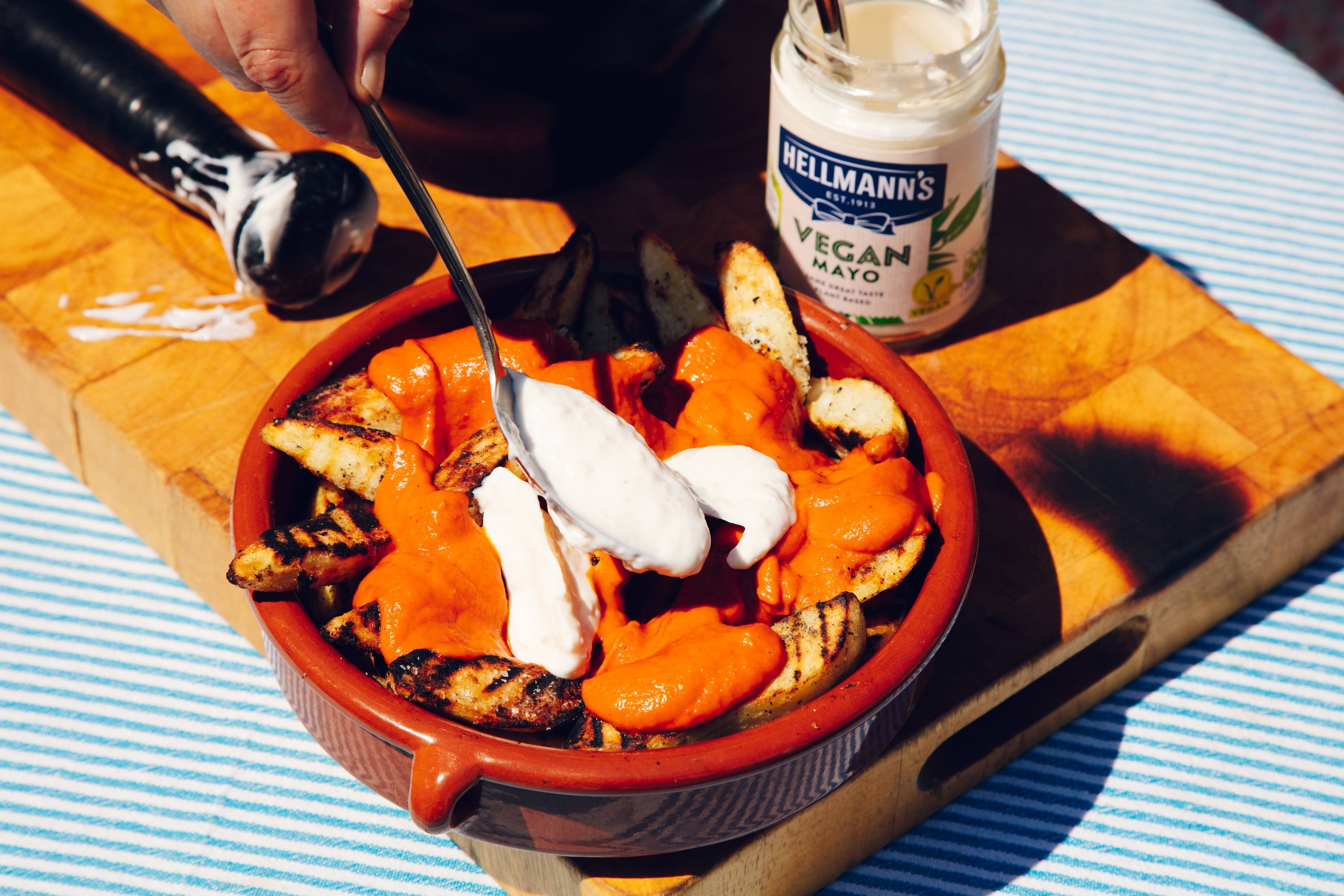 Classically the potatoes are fried, but this technique of parboiling the potatoes, soaking them in vegan mayonnaise, which later melts and crisps up on the BBQ.
INGREDIENTS
1 kg Maris Piper potatoes cut into wedges
800 g Hellmann's® Vegan
2 tbsp olive oil
6 garlic cloves finely chopped
500 g passata
180 g jarred roasted red peppers roughly chopped
1 tbsp sherry vinegar
1 tsp hot smoked paprika
1/2 tsp sea salt
freshly ground pepper
200 g Hellmann's® Vegan
2 garlic cloves finely grated
METHOD
Boil the potatoes for roughly five minutes until they are not quite falling apart. Drain and allow to steam dry.

With a pastry brush, coat all of the potatoes with a layer of Hellmann's Vegan Mayonnaise and lay them out on a plate ready for cooking.

Meanwhile make get the spicy tomato sauce on. In a saucepan heat the oil over a medium heat and add the garlic. Allow to soften and start to caramelise for 3-4 minutes, being careful not to let it burn, and then pour in the passata, red peppers, sherry vinegar, hot smoked paprika, salt and pepper. Allow to reduce and cook down for about 15-20 minutes until it has developed a deep rich flavour. Add the salt and check for seasoning.

To make the aioli, simply mix together the minced garlic with the Vegan Hellmann's Mayonnaise.

When your barbecue is white hot, place the mayonnaise coated potatoes on the barbecue, and allow them to get golden and crispy, turning every few minutes until they are beginning to char.

To serve, place the crispy potatoes on a platter, pour the tomato sauce over the potatoes followed by the aioli and serve immediately.