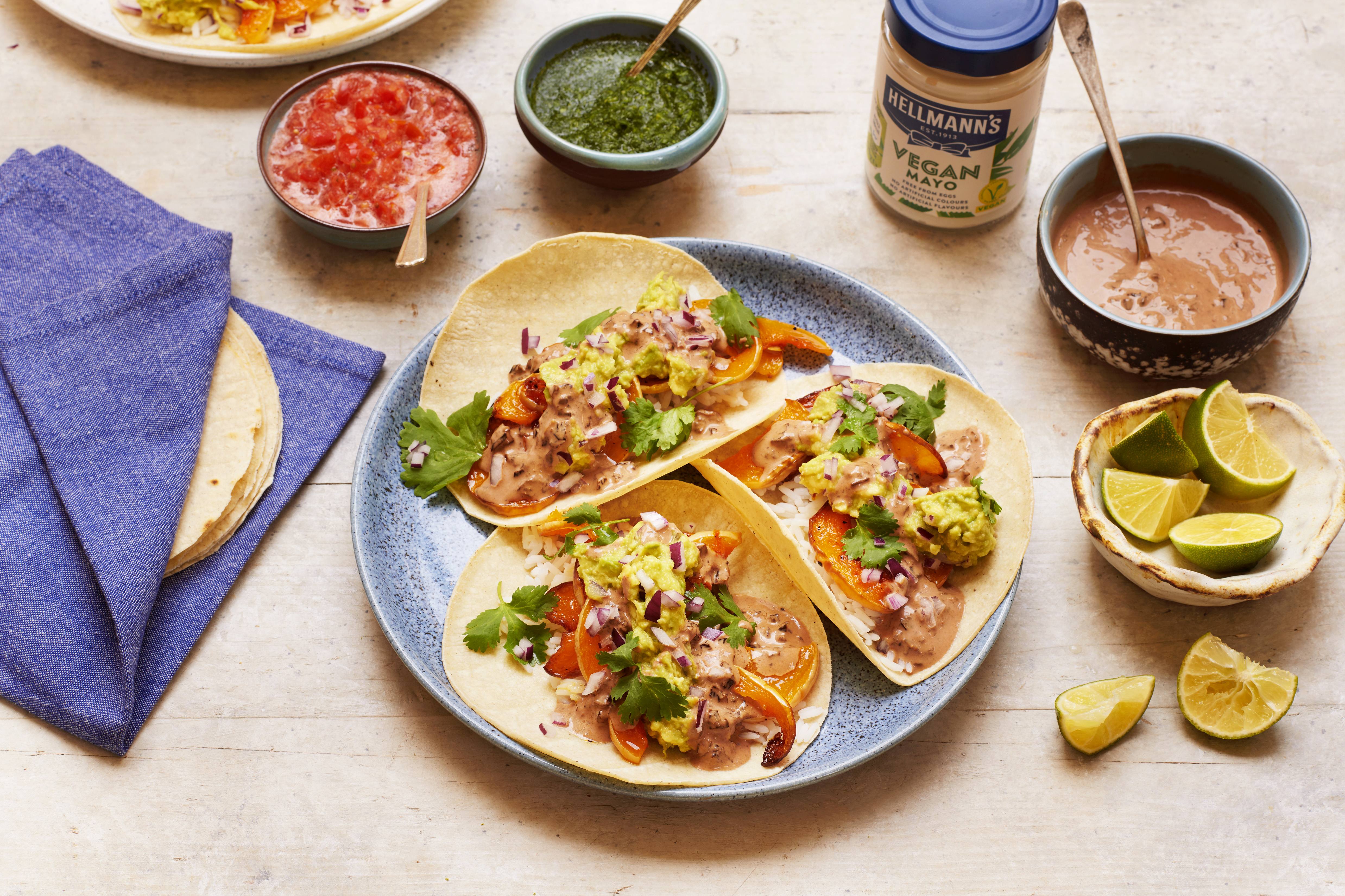 Embrace autumn and a Saturday night in with a little help from Hellmann's. Invite close friends and gather around the table for some tasty vegan grub.
INGREDIENTS
12 tortilla wraps
2 tbsps rapeseed oil
1 butternut squash thinly cut into half moons
150 ml Hellmann's® Vegan
6 dried chipotle chilli peppers (smoked)
2 tbsps ketchup
3 avocados
1 small red onion peeled and diced
2 limes juice only
100 grams coriander
2 green jalapenos or green chillies roughly chopped
50 ml cider vinegar
4 tomatoes
1 lime juice only
200 grams long grain rice cooked
sea salt to season
pepper to season
coriander to serve
METHOD
Preheat the oven to 200C fan. Toss the squash slices in oil, season well and roast on a baking tray for about 30 minutes, turning with tongs once. The slices should be soft and slightly caramelised at the edges.

To make the mayo, put the smoked dry chillies into a bowl and pour over some boiling water, then cover with clingfilm and leave for 30 minutes or longer. Then drain the chillies and chop two of them finely. Blitz the rest of the chillies with the mayo, ketchup and a little seasoning. Stir the chopped chillies in.

To cook the rice, first rinse in cold water. Bring 400 ml water to a boil and add rice. Turn the heat down to as low as possible, whilst keeping the lid on, and cook until water is absorbed. Fluff with a fork and set aside.

For the guac, juice the limes into a medium bowl and stir in some salt - the acid will help dissolve it. Then mash the avocados into the lime juice with a fork or a potato masher and stir through half of the diced red onion.

For the coriander salsa, chop the coriander, including its stalks roughly and put it into a food processor along with the chillies. Add the cider vinegar and a generous pinch of salt and blitz. You should end up with a rather liquid, spicy, well-seasoned salsa. Add more vinegar and salt if needed and blitz again.

For the fresh tomato salsa, simply blitz the tomatoes with the lime juice and a generous pinch of salt.

To assemble the tacos, warm both sides of the tortilla wraps in a dry frying pan one by one (keep the heated ones under a towel while you do the rest so they don't dry out). Then load them up with the rice, squash, beans, salsas and a generous swoosh of chipotle mayo, finishing with some coriander leaves and the remaining diced red onion.