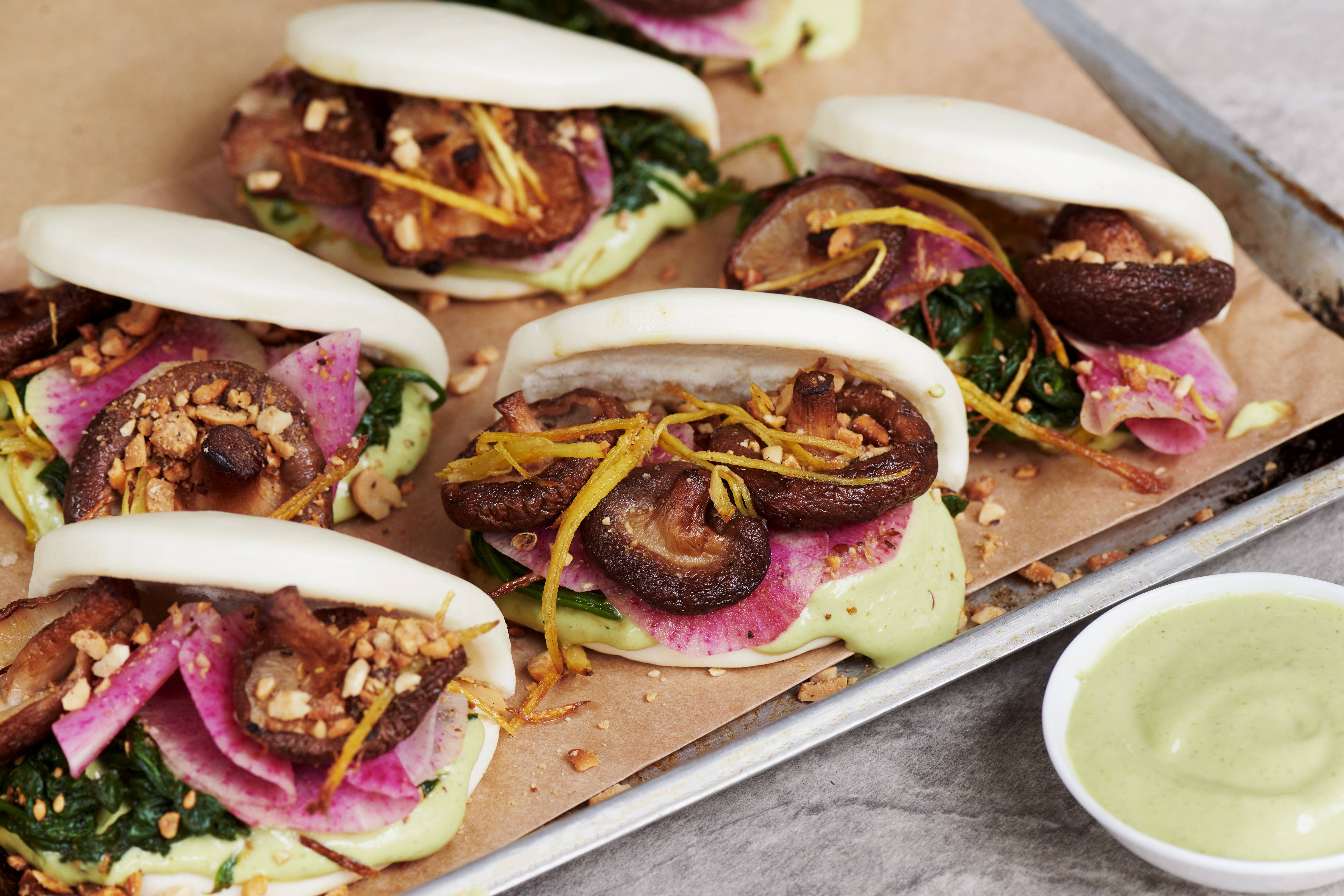 Sheared shiitake mushroom, Japanese spinach, crushed peanuts, sesame seeds and basil mayo - all served in a fluffy bao bun (see our recipe to make your own!)
INGREDIENTS
200 grams spinach
1 tbsp sesame seeds toasted
1 tbsp soy sauce
1 tbsp sake
1 tbsp mirin seasoning
1 tbsp rice vinegar
2 tbsp sunflower oil
200 grams shiitake mushrooms
10 grams ginger peeled and julienned
1 small radish thinly sliced
50 grams peanuts toasted
1/2 tsp ground Sichuan pepper
20 grams Thai basil leaves only
1/2 lime juiced
sea salt flakes
100 ml Hellmann's® Vegan
METHOD
Keep 1/2 tsp of sesame seeds behind and blitz the rest in a spice or coffee grinder and whisk them into the soy, sake, mirin and rice vinegar. Blanch the spinach, drain and squeeze out as much moisture as possible. Then dress with the sesame dressing and the whole sesame seeds.

Heat the oil in a wok or a heavy-based skillet and fry the mushrooms cap-size down until they start to become deep golden and crispy, then flip them over and fry some more. Add the julienned ginger and cook briefly, for about 30 seconds - just to take the edge off and make it a little crispy.

Bash the toasted peanuts with the ground Sichuan pepper in a pestle and mortar.

For the mayo, blitz the basil leaves, salt and lime juice into a puree and mix through the mayo.

To assemble, spread the mayo over the bottom of the bun, layer the dressed spinach, mushrooms, ginger and spiced peanuts.